LDC SCUBA SQUAD/Kids Club Open House
ATTENTION ALL SCUBA CAMP AND SCUBA RANGER GRADUATES
November 1st BIG OPEN HOUSE 
Introducing the
LDC SCUBA SQUAD AND KIDS CLUB 
*Scuba Campers *Scuba Rangers 
Nov 1st * 1-4pm * FREE
What is LDC SCUBA Squad?
Join us for an informational open house and Bring a Friend for fun!
Free Introductory SCUBA Lessons for your friends
Talk to Greg Curry, LDC SCUBA CAMP Director about the super FUN Monthly SCUBA Squad Challenges
Find out what the annual Labor Day 'SCUBA JAM' is all about
Stephanie Mckinney, SCUBA Ranger Instructor here to answer your questions for 7-10 year old Ranger Specialty Programs.
Join the club and sign up for skills review and monthly challenges!
This is a fun school year calendar of monthly challenges for our SCUBA Ranger and SCUBA Camp Graduates.
DONT MISS THIS OPEN HOUSE TO FIND OUT MORE ABOUT THE FUN SCUBA CHALLENGES that GREG CURRY & STEPHANIE HAVE IN STORE FOR YOU!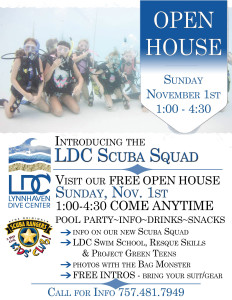 Schedule of Fun!
Here is a sneak preview of our scuba club calendar!  $25 for each challenge
November 22nd–
2-4pm – SCUBA Campers  – Graduate Reunion. Underwater Darts.
12-2pm- SCUBA Rangers – Graduate Reunion. Underwater Darts.
December 20th–
2-4pm – SCUBA Campers- PVC Christmas Tree.
4-6pm – SCUBA Rangers- Night Ranger. Underwater Christmas Lighting of
the tree.
January 17th–
12-2- Ranger – Buoyancy Specialty
2-4pm – Camper – Ping Pong Challenge